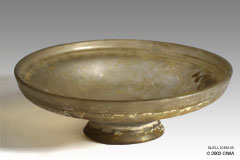 | | | |
| --- | --- | --- |
| Period: | | |
| Dating: | | 200 AD–400 AD |
| Origin: | | Roman World, Eastern Roman World |
| Material: | | Glass (all types) |
| Physical: | | 17.5cm. (6.8 in.) - 209 g. (7.4 oz.) |
| Catalog: | | GLS.LL.00692 |
Links to other views:
⇒ Larger View
if scripting is off, click the ⇒ instead.



• • •




Links to others of type Dish
Large terracotta dish, Crete, c. 1400 BC
This footed glass dish was made from yellow green transparent glass. The bottom is flat with a prominent pontil mark. The base-ring foot shows diagonal tool marks. The profile of the body is S shaped, with an almost vertical rim, folded up, then down. A horizontal groove runs all around the outside of the rim. The inside of the dish presents a perfectly smooth surface and regular shape. The flawless execution of the body and rim is in strange contrast to the relative unevenness of the foot. Eastern Roman Empire, 200-400 AD.

Some white weathering crust.

Parallels:
"This large bowl has a vertical rounded rim decorated with a thick horizontal tooled rib underneath. The vessel rests on a high pushed-in foot with tubular ring. Brown encrustation on the interior. Eastern Roman Empire 3rd. - 4th. century AD" (Fortuna 1991:96, 97 #180).

Similar larger object:
"Light green. Blown. Unusually large glass dish; rounded lip, folded down and in to form underhanging rib; body projecting widely beyond foot; foot-ring" (Harden 1987:98 #40).



Bibliography (for this item)
Fortuna Fine Arts, Ltd.,
1991 Shining Vessels: Ancient Glass from Greek, Roman, and Islamic Times. Fortuna Fine Arts, Ltd., New York, NY. (96,97 # 180)

Harden, Donald B.
1987 Glass of the Caesars. Olivetti, Milan, Italy. (98 # 40)