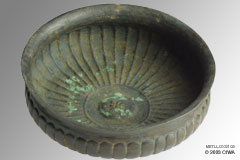 | | | |
| --- | --- | --- |
| Period: | | |
| Dating: | | 224 AD–650 AD |
| Origin: | | Persia, |
| Material: | | Bronze |
| Physical: | | 16.9cm. (6.6 in.) - 335 g. (11.8 oz.) |
| Catalog: | | MET.LL.00021 |
Links to other views:
⇒ Larger View
⇒ Outside
⇒ Motif (detail)
if scripting is off, click the ⇒ instead.



• • •




Links to others of type Bowl
Bronze bowl with ibexes, Luristan, 900-700 BC
Bronze bowl with omphalos, Persia, 559-334 BC
Bronze bowl with omphalos, Persia, 559-500 BC
Double-convex bowl, Roman, 100-200 AD
Early-dynastic alabaster bowl, 3100-2686 BC
Grooved bowl, Syro-Palestine, 150-50 BC
Large glass bowl, Roman world
Large silver bowl, Sasanian Persia, 226-637 AD
Ribbed bronze bowl, Persia, 559-334 BC
Ribbed glass bowl, Alexandria, 50 BC-50 AD
Sigillated bowl, Roman Gaul, 100-150 AD
This bronze cup is decorated with a 'beaming sun' motif—a Zoroastrian theme.

Zoroaster, prophet and reformer around 800-700 BC, professed that the struggle between the forces of good and evil will end with the triumph of good.

"The Mazdean religion, reformed by Zoraster, started to spread throughout the Empire during Achemenid times. It was the work of an aristocracy that disapproved of the cruel practices and gory rituals of the older Aryan religions. Hence, the dead could no longer be buried, burned or immersed by respect for the three sacred elements: earth, fire, and water. Instead, one had to expose the corpses atop mountains or towers erected for that purpose, and later store the remaining bones in ossuaries carved out of the rock, or erected in open air" (Ghirshman 1963:230).



Bibliography (for this item)
Ghirshman, Roman
1963 Perse: proto-iraniens, mèdes, achemenides. Gallimard, Paris, France. (230, 403)

Musée Borely,
1975 Art de l'Ancien Iran. Musée Borely, Marseille, France.